Digital Production – Flexible and Future-Proof
FASTEC 4 PRO provides you with facts based on data in real time, independent of any sector, modular, individually tailored to your specific production processes as well as tried and tested. For swift and reliable decision-making – from the shop floor to the management.
Transparency as the Key to Success
The MES solution FASTEC 4 PRO is a flexible system that all areas of your company will benefit from – from the production employees, the planner, the maintenance staff, the production manager and the controlling up to the management.
Our modular MES solution helps you to improve your production planning, ensures more transparency and regulated processes, provides you with important KPIs, analyses and reports – regardless of the industry and flexibly adaptable to your special production processes.
Our MES Modules – Custom-Fit With a Central Database
Diverse requirements – one solution! Building on the MES basic module, all FASTEC 4 PRO modules can be combined individually and tailored to your needs. The individual MES modules access a common and uniform database. In this way you always have consistent data – there are no interfaces between the modules and
there is no redundant data stored. Due to the modular structure, a step-by-step and demand-oriented implementation of the software modules up to a digitalization of all areas of your entire production at one or more locations and in one or multiple languages is possible.
Module Quality Assurance (QA)
Standard Functions Included
Automatic data transfer from peripheral devices/PLC
Automatic inspection
Data archiving
Digital checklists
Simple inspection plan creation
Intuitive operator entries during production
Proactive information management
Inspection plans/inspection orders
Samples/statistical process controls (SPC)
Top level dashboards on large screens
Module Detailed Scheduling (DS)
Standard Functions Included
Production variants/versions
Gantt chart with drag and drop functionality
Comfort functions for an efficient planning process
Planning regarding limited capacities
Testing of rule violations
Scenarios with analyses
Equipment availability planning
Material availability planning
Personnel availability planning
Campaigns/planning groups
Changeover matrices/rules, calculation of the setup times
Module Traceability (TRC)
Standard Functions Included
First Pass Yield
Forward and backward searches
Connection to measuring equipment (Q-DAS)
Label printer control
Material review board (MRB)
Material traceability
Process traceability
Process interlocking
Serial number/batch traceability
Serial number generator
Standard Functions Included
Planned maintenance
Personnel deployment and requirements planning
Alerting
Hierarchical structures
Maintenance plans/orders
Calendar/runtime/counter/state triggers
Request and task management
MTBF/MTTR
Pareto and Pivot analyses
Autonomous maintenance
Equipment maintenance
Synchronization with MDA
Module Machine Data Acquisition (MDA)
Standard Functions Included
Intuitive input screens
Comprehensive and simple reporting
– Differentiation of rejects
– Performance analysis
– MTBF/MTTR
– Setup time report
– States reports
Overall equipment effectiveness (OEE)
KPI configurator
Process data acquisition
Process messages (PM)
Module Production Data Acquisition (PDA)
Standard Functions Included
Production order management
– Routings
– Bill of material
Various order types
Automatic order start from PLC
DNC/EDS set data management
Document display
– e.g. training videos, changeover instructions
Dynamic target setup times
Energy data acquisition
ERP bookings
– Recording of quantities/time regarding the production order/start date
– Automatic reporting into the ERP system
– Based on packing instructions
Standard Functions Included 
Audit trail
Basic data editor
User/rights management
Multilingualism
Report Designer
View Designer
Master data management
Resource Logbook
Alerts
Connection to BI/BW systems
ERP interface
Graphical online monitoring (e.g. Andon board)
Machine connection
Mobile Client
Office Client
Interesting Facts About FASTEC 4 PRO
Every MES manufacturer is characterized by individual services and unique selling points. The approach and services of the individual providers often lack transparency for those interested in MES. That is why we have compiled some frequently asked questions together with our answers.
"In the past, I have been showered with amounts of data coming from our performance measurement system, from which I should derive needs for action. For such an evaluation on a single machine I had to schedule almost a full day back then – today, I can evaluate all plants in just 30 minutes thanks to FASTEC 4 PRO."
Torsten Schlegel
CIP Coordinator, RITTER SPORT
"Depending on the product, we have now achieved an increase in OEE of 5 - 15%."
Stefan Wespel
Plant Process Manager, Diehl Controls
"Visualizing capacities that were previously only roughly estimated has helped us enormously. In 2016, the OEE of individual lines was increased by a total of 10 - 15 % within one year."
Dr. Britta Bär
Head of Production, Heraeus Medical
"Thanks to FASTEC 4 PRO, we are able to guarantee production safety again and to plan reliably using valid data."
Manfred Bongards
IT Management Production Systems, Orthomol
"The MDA module is our basic tool for determining losses in packaging lines, and thus it is an essential tool for our production."
Gerhard Weinert
Business Process Management Manufacturing, Unilever Plant in Heilbronn
"A MES system enables us to achieve higher transparency, an improved flow of information and smoother processes in our company."
Volker Spruch
Head of Technical Controlling, Eisengiesserei Baumgarte
"We were able to increase the OEE across all lines by 12% within 6 month. In the past, I would not have thought such a significant increase possible."
Sven Katzky
EMEA Director Operation Excellence & Lean, Bausch Health
Your Project – Our Solution Portfolio
Long-term cooperative collaboration is important to us – from the concept to the rollout, from the software implementation and training of your employees to the subsequent support during operation. At the beginning, we analyze your needs and with the help of a comprehensive, individual concept we create the foundation for your successful MES project. Your solution will then be developed and introduced gradually. During the entire course of the project, you constantly have a fixed contact person you can rely on. We will not abandon you after the rollout. You can reach our support by phone or make use of remote maintenance. We also provide support at your location if needed.
Detailed analysis
Individual conception
Central contact person
Test phase
Rollout
Staff training
Long-term support
Our Additional Functions at a Glance
A variety of challenges – one solution! The FASTEC 4 PRO modules are perfectly complemented by multiple additional functions. In this way, we offer individual solutions for individual customers. We will be happy to advise you.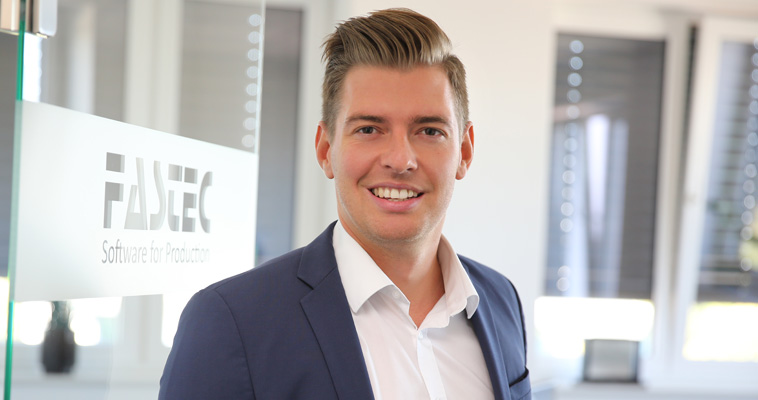 Do You Have Special Requirements for Digital Production Management?
We provide customized solutions. With us, you benefit from extensive project experience in digital production in various industries. With over 400 customers. Worldwide. Since 1995.
From automotive suppliers to food producers, pharmaceutical companies to toy manufacturers, from highly specialized niche suppliers, to ambitious medium-sized companies to large international corporations – more than 400 customers around the globe trust in Software for Production – made in Paderborn. Among them are: