Our module Maintenance supports you in all work related to maintenance – from preventive maintenance to repairs. Your benefits: Efficient, digitalized maintenance processes, regular inspections, reduced susceptibility to faults, optimized maintenance intervals.
The Most Important Functions at a Glance
Create autonomous maintenance plans (types)
Separate documentation of working times for maintenance activities on the machine (manually or by RFID)
Involve machine operators through maintenance requests
Diverse trigger, e.g. calendar intervals, states, runtime or lot size
Predictive maintenance
Provide supporting documents
Document performed activities and spare parts needed
Supplementary information and notice of defects
Additional comments and error information
Benefits for Your Corporate Success
Significant time and cost savings
Relief of the maintenance staff
Higher identification of the machine operator by delegation of responsibility
Machine operator handles minor downtimes quickly
Uniform order management as well as regulated maintenance requests
Optimized planning by assigning urgencies
Fast reaction time through individual alerting
Quality Assurance Module (QA)
Management of test plans
Live trigger from MDA/PDA
Automatic creation of test orders
Digital checklists and forms
Binding of peripheral devices
Proactive information management
Statistical process control (SPC)
Production Planning Module (PP)
Master data management
Article management
Routings and bills of materials
Production variants and versions
Gantt chart with drag & drop function
Scenarios and analyses
Demand handling
Digital planning board
Preplanning
Planning groups
Setup rules
Personnel availability planning
Equipment availability planning
Material availability planning
Semaphores
Joins
Semi-automatic planning
Fully automatic planning
Traceability Module (TRC)
Acquisition of components used
Acquisition of process values
Assembly management
Process locking
Serial numbers and batch management
Label printing
Reports for traceability
Management of production warehouses
Resource management
Maintenance plan management
Live trigger from MDA/PDA
Automatic creation of maintenance orders
Digital forms
Proactive information management
Personnel deployment and requirements planning
 Alerts
Request and task management
 MTBF/MTTR
Autonomous maintenance
Machine Data Acquisition Module (MDA)
Recording of machine conditions, performance and quality
Convenient reporting:


differentiation of rejects
performance analysis
MTBF/MTRR
setup time report
states reports

Overall equipment effectiveness (OEE)
Resource Log
KPI Configurator
Process data acquisition
Process messages
Data archiving
Setup rules
Production Data Aquisition Module (PDA)
Production order management
Various order types
Acquisition of quantities and times
 
Staff time recording
Formula management (DNC/EDS)
Document display
ERP bookings
Automatic order start
Equipment data acquisition
Audit trail
Basic/Master data management
User/rights management
 Multilingualism
Report Designer
Template Designer
Test system
Alerts
OPC UA Server
ERP interface
Cloud/BI-Connector
Online monitoring
Machine connection
Classifications
Mobile Client
View Client
Office Client 
Fair and Flexible – You Only Buy and Pay for What You Really Need
Our seven modules are complemented by twelve additional functions and many functionalities. This allows you to select the software components you need and you can focus on digitalizing your production step by step. We will be pleased to advise you!
Proactive: Planned Maintenance Measures
Reactive: Unplanned Maintenance Measures
Module Maintenance: In Detail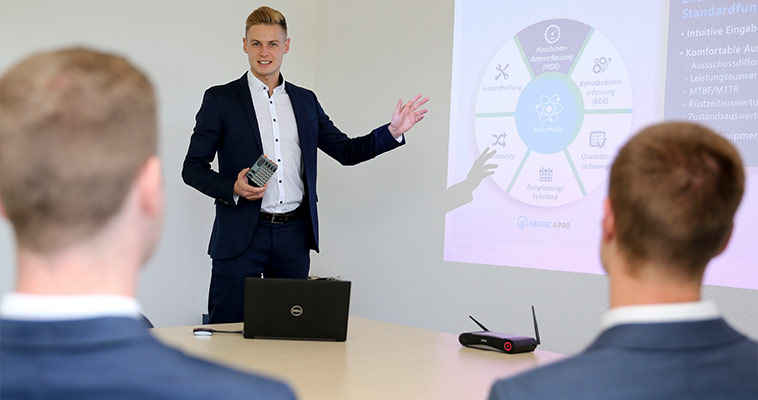 Find Out More About Our Modules and Reference Solutions!
In our download area we will give you an insight into reference solutions for our customers as well as further detailed information about our modules and software solutions. Let us inspire you!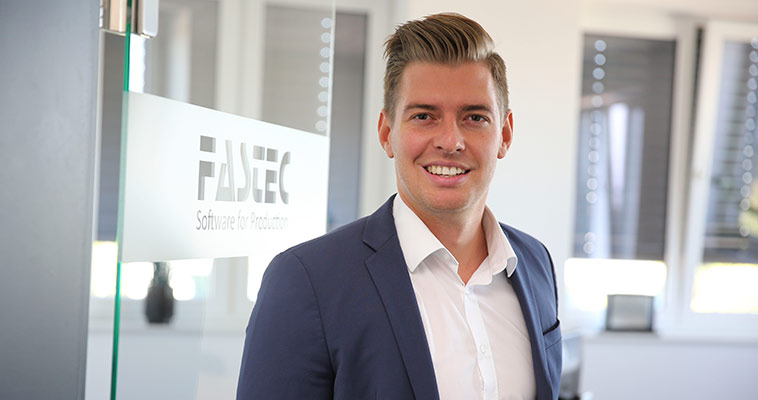 Are You Interested in Individual Solutions for Your Company?
With us, you benefit from extensive project experience in digital production in various industries. With over 400 customers. Worldwide. Since 1995.