Alerting – React Immediately If Required
Receive an automated alarm for events that you have defined yourself – by e-mail, VoIP call, SMS, pop-up message or app.
The Most Important Functions at a Glance
Easy and individual configuration of important alarm events, e.g. technical faults, shortage of materials, excessive scrap production, exceeding or falling below the default values
Multi-level escalation management
Definition of message chains
Choose freely from different automatic notification forms such as call, e-mail, SMS, push message, VoIP call, Office Client pop-up as well as the FASTEC 4 PRO Mobile Client app
Benefits for Your Corporate Success
Permanent real-time monitoring of production
React faster thanks to immediate information about deviations, defects, interruptions as well as delays in the production process
Reliable 24/7 monitoring of production even in unmanned ghost shifts and on weekends
Minimized downtimes for higher productivity
Reduced effort due to reactive maintenance work on late shifts and night shifts
Additional Function Alerting: In Detail
Alarms help you to quickly identify deviations in the production process. If something goes wrong in production, the FASTEC 4 PRO additional function Alerting informs you immediately. Especially if you are not in the workplace, this has a number of advantages. The alarm notifications are therefore broadly diversified. They work both on your PC and in noisy production environments. On the go, the alarms reliably find their way to your smartphone or tablet using the additional FASTEC 4 PRO Mobile Client app or by SMS.
Alarms can be triggered by various events: The change to certain, mostly undesirable states, timeouts, limit violations, performance losses, reaching set counter values, reaching the end of an order soon, shortage of material, etc. You are familiar with these reasons and the list can easily be expanded. Therefore, it is important to record as many sources of alerts as possible in a structured way. In FASTEC 4 PRO this can be any configured resource. You configure the events that trigger an alarm in so-called alarm chains. You can set delays and waiting times. This enables a multi-level escalation management that successively informs other recipients of longer-lasting events.
In the configuration, you can easily determine which machines are monitored in which way and which of your employee should be informed when and in which order by which medium. Is there a disturbance in a machine which lasts longer than three minutes or the defined target cycle of an individual working operation is clearly and often fallen short of, the system automatically alerts the previously defined individuals. You can also monitor KPIs such as OEE, NEE, services and more. In the event of critical deviations, you can automatically alert the responsible employees. In this way you ensure that appropriate measures are taken without delay to efficiently counteract downtimes.
Would You Like to Get to Know Our MES Modules and Reference Solutions?
Information about out modular software solution FASTEC 4 PRO, eight-part whitepaper series "MES and Industry 4.0," user reports …
Our MES Modules – Custom-Fit With a Central Database
Diverse requirements – one solution: Building on the MES basic module, all FASTEC 4 PRO modules can be combined individually and tailored to your needs. The individual MES modules access a common and uniform database. In this way you always have consistent data – there are no interfaces
between the modules and there is no redundant data stored. Due to the modular structure, a step-by-step and demand-oriented implementation of the software modules up to a digitalization of all areas of your entire production at one or more locations is possible.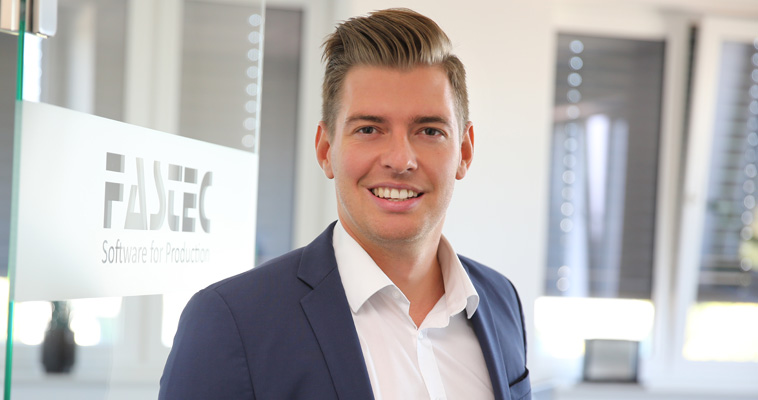 Are You Interested in or Have Questions About Solutions for Your Company?
Please do not hesitate to contact us for information only and without obligation –we will be pleased to advise you! Profit from our extensive project experience in digital manufacturing in various industries. With over 400 customers. Worldwide. Since 1995.
From automotive suppliers to food producers, pharmaceutical companies to toy manufacturers, from highly specialized niche suppliers, to ambitious medium-sized companies to large international corporations – more than 400 customers around the globe trust in Software for Production – made in Paderborn. Among them are: