Energy Monitoring – Transparency and Control of Energy
Our additional function Energy Monitoring collects and visualizes production-related energy data. Process-related peak loads as well as energy wasters are easily identified.
The Most Important Functions at a Glance
Comprehensive energy evaluation per article, order or over a given period of time
Storage, acquisition, visualization and monitoring of energy data
Display of apparent or reactive and active power, voltages, currents or flow rates
Alerting when defined values are exceeded
Benefits for Your Corporate Success
Permanent control of energy consumption
Fast recognition of increased energy consumption, e.g. due to defects
Detect process-related peak loads
Identify "energy guzzlers"
Continuous transparency in energy consumption
Recognize saving potentials
Post calculation of production orders including the energy needs
Take into account energy aspects in investment decisions
Additional Function Energy Monitoring: In Detail
It is very likely that production is the division of your company with the highest energy consumption. Accordingly, it is of paramount importance to immediately identify possible savings. The FASTEC 4 PRO additional function Energy Monitoring supports you with the acquisition, visualization and evaluation of energy data. With the newly gained transparency about energy consumption you can profit from deriving reliable saving potentials. In this way you not only save valuable resources, you are also able to include the energy consumption in detail in your post calculation of the production orders.
You have several options to collect energy data. Special I/O plug-in modules can quickly and easily be connected to existing I/O modules for machine data acquisition. What is more, you are able to connect with an interface to a widely used multi-function measuring device SENTRON PAC by the company Siemens. Alternatively, you can rely on S0 interfaces through which your data is consistently recorded and then clearly assigned to the respective consumers. These can be machines, machine units, production areas or even your entire factory.
You increase the benefits of the FASTEC 4 PRO additional function Energy Monitoring additionally if you decide to combine it with other MES modules. An attractive example is the MES module Production Data Acquisition (PDA), with which you can also generate order-related evaluations. For environmental audits, you receive order and article-related CO2 balances.
Would You Like to Get to Know Our MES Modules and Reference Solutions?
Information about out modular software solution FASTEC 4 PRO, eight-part whitepaper series "MES and Industry 4.0," user reports …
Our MES Modules – Custom-Fit With a Central Database
Diverse requirements – one solution: Building on the MES basic module, all FASTEC 4 PRO modules can be combined individually and tailored to your needs. The individual MES modules access a common and uniform database. In this way you always have consistent data – there are no interfaces between the
modules and there is no redundant data stored. Due to the modular structure, a step-by-step and demand-oriented implementation of the software modules up to a digitalization of all areas of your entire production at one or more locations is possible.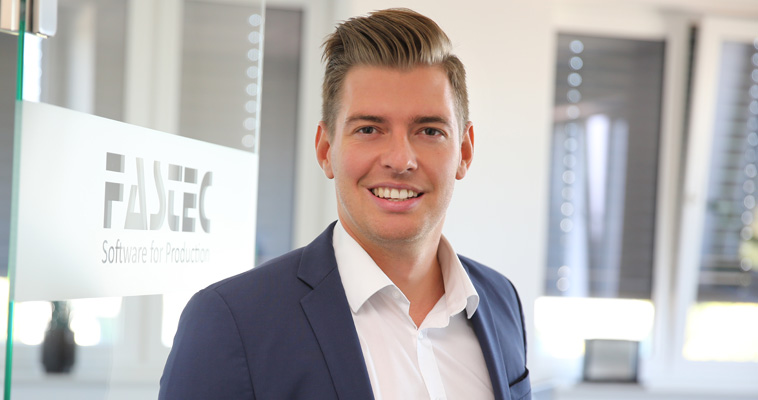 Are You Interested in or Have Questions About Solutions for Your Company?
Please do not hesitate to contact us for information only and without obligation – we will be pleased to advise you! Profit from our extensive project experience in digital manufacturing in various industries. With over 400 customers. Worldwide. Since 1995.
From automotive suppliers to food producers, pharmaceutical companies to toy manufacturers, from highly specialized niche suppliers, to ambitious medium-sized companies to large international corporations – more than 400 customers around the globe trust in Software for Production – made in Paderborn. Among them are: