easyOEE: Your Flexible Productivity Measuring Device
The complete system, which is quick and easy to install, is your perfect introduction to MES: Via LAN, WLAN, directly or offline using a USB token. Enter the digital world of production – installed by us on-site or via remote access.
Ready for Use Within 48 Hours
Fast Analysis of Machine Productivity
The productivity of a machine can be mapped quickly, easily and, above all, precisely with just one key figure – the OEE value. The basic idea here is a simple formula that provides precise information about how productive a machine or assembly workstation is. Our OEE measuring device provides you with exactly this key figure – regardless of the machine type and manufacturer. You receive transparency and reliable data. easyOEE is delivered to you as a ready-to-use system. It is a plug-and-play complete system that is quick and easy to install and therefore, it is ready to use right out of the box. You do not need any additional hardware or software components. Getting started is possible at any time and of course, also during the restrictions caused by the Corona pandemic. Quite simply by remote access.
Cost-effective and fast entry into the world of OEE
For rent to ensure the fastest ROI
Pre-installed software on touch panel PC
No intervention in machine control required
Starting machine monitoring within a very short time
Short training period
Permanent monitoring of the machine condition and display of the production key figures in real time
Access anytime, anywhere from any PC or via web browser
Detailed evaluations by order, article, shift
Alerting function included
Suitable for supporting a decision in favor of implementing MES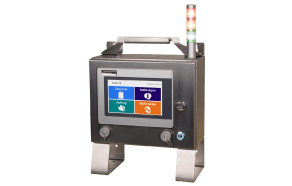 Get started with your MES today, quickly, easily and securely! Rent our OEE measuring device easyOEE, starting at EUR 390
Getting Started Quickly
easyOEE can be provided and installed within 48 hours. In addition, it hardly takes any training time.
Good Value
easyOEE is your cost-efficient introduction to the world of OEE. Benefit from our automated data acquisition and absolute transparency.
Live Analysis
All recorded data can be evaluated directly and immediately
at your PC workstation. All you need is a web browser.
"FASTEC's easyOEE provides the necessary transparency to identify, evaluate and sustainably eliminate recurring sources of interference."
Adrian Mosbacher
Managing Director, FABRY's Food & Snack GmbH & Co.
"All these advantages have almost alone led us to improve the OEE on this line by 10% with the right team and have convinced us to equip further production lines with the easyOEE system."
Dr. Holger Schoen
Environmental & Lean Management, Bausch & Lomb, Berlin, Germany
"easyOEE allows us to track plant performance in real time, making a significant contribution to improving MTTR and OEE."
Adrian Mosbacher
Managing Director, FABRY's Food & Snack GmbH & Co.
"In our search for a suitable MES, in which we looked at the solutions of a number of providers, we chose FASTEC again quite quickly; on one hand, because we already had the best experience with easyOEE – which we are, as a matter of fact, still using – and on the other hand, because we are able to expand the modularity of the system at any time and thus, adjust our MES easily to new requirements."
Markus Schimpf
Project Manager Production, RITTER SPORT
easyOEE is flexibel – also when it comes to accessing the recorded data. All recorded data can be evaluated quickly and directly at your PC workstation.
All you need is a web browser (Internet Explorer version 8 or higher, Firefox or Chrome). The following options are available for accessing the data:
LAN
The data is accessed via your company's own cable network
WLAN
With the optional module "easyOEE WLAN" you can implement data access via your own company's internal wireless network.
Direct Connection
You can also connect the easyOEE directly to your PC
Offline Operation
Alternatively, you can store the data on a USB flash drive and then read it out at your PC workstation: For this purpose we provide you with the "easyOEE Viewer" software free of charge
Renting Without Any Risks
Are You Interested in Increasing Productivity With OEE?
We will send you an easyOEE rental device, which you can test extensively and practically. We only charge you a user fee for this. If you are no longer interested, simply return the OEE measuring device to us. Are you interested? Please do not hesitate to contact us – we will be pleased to advise you!
From automotive suppliers to food producers, pharmaceutical companies to toy manufacturers, from highly specialized niche suppliers, to ambitious medium-sized companies to large international corporations – more than 400 customers around the globe trust in Software for Production – made in Paderborn. Among them are: