User Report Vion Convenience GmbH
MES solution FASTEC 4 PRO at the Vion Convenience GmbH in Großostheim.
Feel free to download the complete report.
The Software Solution FASTEC 4 PRO at Vion Convenience
Vion Convenience GmbH from Großostheim-Rinheim is one of the leading manufacturers of self-service fresh meat products for the food retail sector. The company was founded in 1980 and its 240 employees manufacture over 100 products. As part of Operational Excellence (OpEx), the VION Convenience GmbH rises to the challenge of making its production processes fully transparent.
This is where the MES FASTEC 4 PRO comes in.
"We are very satisfied. About a year ago, our OEE values were still at 35 % and we are currently reaching 60 %. Thanks to the technical transparency, we can now react to disturbances in production on time and thus plan in a clearly optimized way."
Dirk Kirchner
Head of Production, Vion Convenience GmbH
From an OEE measuring device to a Manufacturing Execution System 
As part of OpEx, Vion wants to make its production processes transparent in order to detect hidden production reserves on the one hand and weak points on the other.
More efficient planning with MES
As early as 2010, the OpEx concept was declared a key issue for the Vion Food Group. The Bavarian company Vion Convenience GmbH in Großostheim-Ringheim with Dirk Kirchner as production manager started shortly after as an OpEx pilot user.
Three production lines were to be monitored and analyzed. The machine park for this area comprises a total of 36 machines. Previously, the recording of production times, set-up times and downtimes was done manually and only in note form and therefore proved to be very time-consuming. In order to identify possible optimization potential, an exact database should be automatically recorded with the help of IT support. The IT company FASTEC GmbH based in Paderborn, Germany was chosen to realize this task.
Production key figures fully automatic and in real time
To determine the OEE value, all machine states and their duration should be clearly recorded in order to ultimately optimize the production processes with the help of the following evaluations.
Vion gained initial experience in automatic data acquisition in October 2010 with the easyOEE productivity measuring device that can be used immediately to optimize individual machines or lines.
"With easyOEE we have the complete measured values of daily production of a line. That is why we always know exactly where we are," says Daniel Fries, Quality Manager of the Vion Convenience GmbH.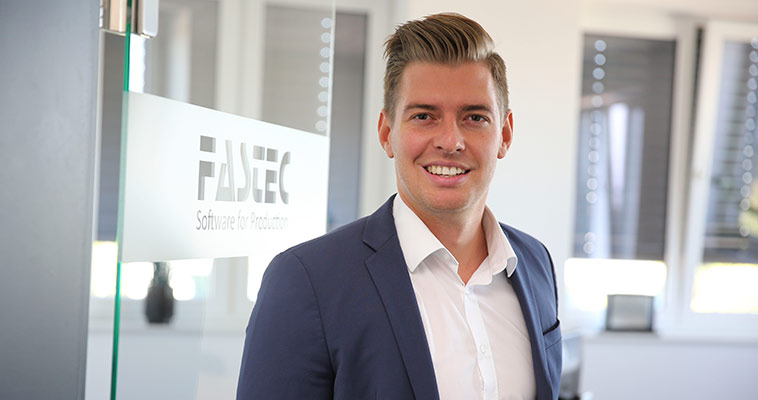 Do You Have Special Requirements for Digital Production Management?
We have got you covered. We provide customized solutions. With us, you benefit from extensive project experience in digital production in various industries. With over 400 customers. Worldwide. Since 1995.
I am interested!
Feel free to contact us without obligation.
From automotive suppliers to food producers, pharmaceutical companies to toy manufacturers, from highly specialized niche suppliers, to ambitious medium-sized companies to large international corporations – more than 400 customers around the globe trust in Software for Production – made in Paderborn. Among them are: