Personnel Planning – Optimizing Processes, Lowering Costs
The MES additional function Personnel Planning optimizes work processes, taking into account personnel availability, qualification, shifts and assignment to workplaces or rather orders.
The Most Important Functions at a Glance
Personnel availability planning

Assignment of employees to workstation or orders
Assignment of employees to personnel groups and workstations
Any number of personnel groups can be defined
Exact, transparent scheduling of employees, taking into account their qualifications and the corresponding time validity
Considering individual working time regulations via personalized shift calendars
Clear display of requirements and capacities according to groups and shifts
Integrating vacation days and sick leave

Personnel scheduling

Considering employees for workstations or orders possible
Comparing required qualifications taking into account their time validity
Benefits for Your Corporate Success
Optimized work flows as well as calculable and controllable personnel costs through targeted personnel scheduling
Reacting quickly and flexibly to fluctuating order situations
In combination with the FASTEC 4 PRO additional function Personnel Time Recording

Exact post calculation taking into consideration individual personnel costs
Increasing employee motivation and commitment through individual working hours, exact time recording and comprehensible compensation with incentive and premium wages
Additional Function Personnel Planning: In Detail
In the personnel availability planning, you can define personnel pools and manage the presence and absence of individual employees or employee groups based on their shift schedules. You can also include absences due to vacation or sick leave. The result is an exact and clear mapping of the actual capacity for each individual shift. Detailed Scheduling provides you with the estimated personnel requirements as a standard value for the individual resource groups per shift. From the overlap of the two values you can immediately see whether the personnel capacity is sufficient to successfully process all scheduled orders in each individual area as well as the respective shifts, or whether you need to adjust measures. If incentive and premium wages are relevant to you, you can also create interfaces to the corresponding payroll accounting system.
With Personnel Planning, an additional function to personnel availability planning, you can specify the personnel for a workplace without significant master data maintenance efforts. All other resources that are used in standard detailed scheduling are not considered here. This offers you considerable advantages if you are already planning your production in an ERP system or if the work processes hardly vary. Manufacturing similar products on a single production line is a good example: Since it can be assumed that the production process for an article is always the same, the primary concern is to ensure the availability of qualified personnel at each line segment. By means of stored information such as qualification, including range of validity and shift availability, personnel scheduling can automatically assign your employees.
In combination with the MES additional function Personnel Time Recording, you can further increase your benefits of Personnel Planning. For example, you can consider individual personnel costs in your post calculation. In connection with individual working hours and performance-linked wages, an interface to an incentive and bonus wage accounting system allows you to set the course for a precise and smooth digital acquisition – also at the terminal (manually or RFID).
Would You Like to Get to Know Our MES Modules and Reference Solutions?
Information about out modular software solution FASTEC 4 PRO, eight-part whitepaper series "MES and Industry 4.0," user reports …
Our MES Modules – Custom-Fit With a Central Database
Diverse requirements – one solution: Building on the MES basic module, all FASTEC 4 PRO modules can be combined individually and tailored to your needs. The individual MES modules access a common and uniform database. In this way you always have consistent data – there are no interfaces between the
modules and there is no redundant data stored. Due to the modular structure, a step-by-step and demand-oriented implementation of the software modules up to a digitalization of all areas of your entire production at one or more locations is possible.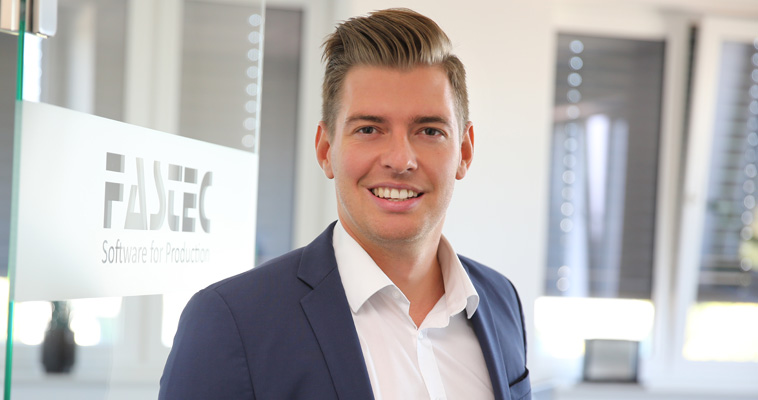 Are You Interested in or Have Questions About Solutions for Your Company?
Please do not hesitate to contact us for information only and without obligation – we will be pleased to advise you! Profit from our extensive project experience in digital manufacturing in various industries. With over 400 customers. Worldwide. Since 1995.
From automotive suppliers to food producers, pharmaceutical companies to toy manufacturers, from highly specialized niche suppliers, to ambitious medium-sized companies to large international corporations – more than 400 customers around the globe trust in Software for Production – made in Paderborn. Among them are: